Overnight, Big Finish have announced the return of Sir Derek Jacobi to play the role of the War Master.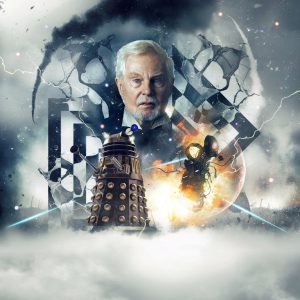 "I didn't expect to come back to it all these years later," says Sir Derek, "but I was thrilled to be remembered. The plots in all these episodes have been very good indeed, very interesting, very dramatic, and beautifully written. The whole process has been a delight!"
The four episodes are as follows:
1. Beneath the Viscoid by Nicholas Briggs
On the ocean planet Gardezza, deep beneath the Viscoid, a mysterious capsule is recovered from the Time War, and an equally mysterious stranger found within. The Doctor's reputation precedes him, even here… but can he be trusted?
2. The Good Master by Janine H Jones
The Time War rages around Arcking – a planet serving as a sanctuary for the sick and injured. But Arcking is protected by a mysterious, powerful force: a force the Master will stop at nothing to harness… even if time itself is against him.
3. The Sky Man by James Goss
When his new companion decides to save a planet, the Master indulges this most futile of requests. Materialising on a primitive, agrarian world, both the strangers quickly find their place in it… until fallout from the War invades their happy paradise.
4. The Heavenly Paradigm by Guy Adams
With his plans approaching fruition, the Master travels to Stamford Bridge in the 1970s: a location he believes might hold the key to his success. But what terrible secret lurks under the stairs of No. 24 Marigold Lane? And what sacrifices will the Master make in the name of ultimate victory?
The DWCA will have these available for sale in early 2018.