Big Finish Productions have confirmed that they are set to release a new volume of audio adventures featuring David Bradley returning to play the First Doctor.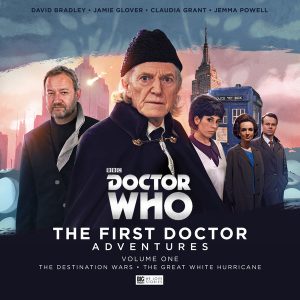 Joining Bradley will be his co-stars from An Adventure in Space and Time, reprising their roles as the iconic first TARDIS team: Jamie Glover (Elizabeth, Waterloo Road, Holby City) plays Ian Chesterton, Jemma Powell (Alice in Wonderland, Angel, Foyle's War) plays Barbara Wright, and Claudia Grant (Harry Potter and the Cursed Child) plays Susan – the Doctor's granddaughter and the original 'Unearthly Child'.
Powell currently plays Barbara in Big Finish's Early Adventures range.
Executive Producer Nicholas Briggs is quoted as saying:
"What's fascinating about the cast and their performances is that they're not impersonating William Hartnell and his TARDIS crew. They're playing those parts as written in the scripts. No one can replace the brilliance of those original performances. What we're presenting here is a kind of reinvention of that era, completely in the spirit of the original. They are new but entirely faithful interpretations of these characters."
Volume 1 of these adventures will be available from the DWCA in early 2018 and will feature:
1.1 The Destination Wars by Matt Fitton
1.2 The Great White Hurricane by Guy Adams
Later in the year, Volume 2 will consist of:
2.1 The Invention of Death by John Dorney
2.2 The Barbarians and the Samurai by Andrew Smith
Also in these adventures, the First Doctor will encounter his greatest foe, with the first incarnation of the Master to be played by James Dreyfus.