It's official – Doctor Who DVDs and Blu-rays have a new distributor and the dates for the upcoming full season Collection boxed sets have finally been announced for Australia!
The tale of bringing Doctor Who episodes to Australian collectors is a long and tangled one. Back in December 1984 Data Extract was first on the scene to break the news of Doctor Who videos arriving on Australian shores. "The rights to distribute the BBC video catalogue have recently been obtained by Polygram Music Video after stiff competition from Roadshow," the story read. "The BBC video Revenge of the Cybermen will be available in record shops and video outlets from 1 December and will retail at $49.95 in both VHS and Beta formats" (all hail Betamax!). So it began! Before long Polygram was supplying ABC Shops (remember those? Sob!) with a steadily growing list of titles. Brain of Morbius was next, followed by Pyramids of Mars then Seeds of Death (confusing some consumers with a colour cover, even though the story was in black and white, leading to a warning sticker being added to explain!). Thankfully the videos started to get a bit more affordable too! "The cost of Revenge of the Cybermen has been cut to $39 .95," Data Extract reported in September 1985, "as Polygram received a royalty break from the BBC".
Robots of Death followed in 1986, with Terror of the Zygons and The Talons of Weng-Chiang in 1987. By the 1990s Polygram was even bringing missing episodes to Australia through titles like The Troughton Years, Cybermen – The Early Years and Daleks – The Early Years. In 1993 they teamed up with Hodder/Headline, BBC Enterprises and ABC Enterprises to run a major competition to commemorate the show's 30th anniversary, with limited edition video tin sets amongst the prizes. In addition to Doctor Who they also distributed videos of other classic BBC science-fiction programs like Red Dwarf and Blake's 7. It was something of a surprise then that in January 1996 it was announced that Polygram had sold the rights to the Doctor Who video range to Village Roadshow Home Video, the stiff competition that they had successfully outbid way back in 1984.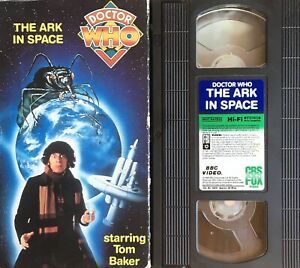 Of course, 1996 was also the year of the Paul McGann telemovie, which may have been a motivating factor in the changing of distributors. Things weren't off to a flying start though, as Data Extract reported in July that year that CIC Video, a partner of Universal Pictures and Paramount Pictures, would be distributing the telemovie following "some extreme prompting from BBC Worldwide". Soon after that though Roadshow was underway with the classic video range, but already a format change was on the horizon…
Betamax had long since been abandoned, but LaserDiscs enjoyed a limited run with a few Doctor Who titles between 1983 and 1997. The big change in the home market though came with the arrival of DVD, with Data Extract reporting in May 1999 that: "BBC Worldwide is planning a Fall 1999 release of a line of DVDs including The Five Doctors which will be in Dolby Digital 5.1. Roadshow are also looking at releasing Doctor Who on DVD. This will only happen if they are convinced there is enough support for it". Initially at least they weren't convinced there was a market, passing on The Five Doctors to wait and see how sales performed in the UK (leading instead with Red Dwarf on DVD in Australia in November 1999). Meanwhile videos were still doing good business for them and they delivered the arrival of Steven Moffat with Curse of Fatal Death on VHS. In November 1999 it was officially announced: "indications from Roadshow are that Doctor Who is just not mainstream enough to warrant release in DVD format. According to sources the show is deemed as too 'niche' and simply will not sell the volume they are after". That didn't last too long though, as by July 2000 it was finally announced that Village Roadshow would be releasing The Five Doctors on DVD that October, retailing at $34.95. And they never looked back!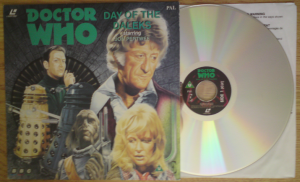 Of course by 2018 Blu-rays were the flavour of the day as the DVD market waned and fans hungrily hunted down the limited editions (no, really, this time they actually were limited and vanished off retailer shelves in the blink of an eye) boxed sets covering full seasons of the classic era. Roadshow saw the sell-out releases of three Doctor Who: The Collection boxed sets, covering seasons 12, 18 and 19. But just as upcoming releases for Seasons 10, 23 and 26 had fans salivating over the BBC online trailers, everything went quiet in Australia and Roadshow stopped bringing out new titles… But then at the end of August 2019 it was announced that BBC Studios had signed a multi-year deal with Universal Pictures to distribute the Doctor Who range throughout Australia and New Zealand. "We were impressed by Universal Pictures' experience and creative flair," Jon Penn, Managing Director of BBC Studios Australia and New Zealand stated. He went on to assure: "their expertise will bring fresh energy and focus to the delivery of physical formats through retailers to our customers". 
Of course, Polygram, Australia's first distributor of the range back when videos (yes, even the mighty Betamax, may it Rest in Peace) first arrived on our shores, had gone through a few changes itself since the 1980s. In May 1998 it was sold to Seagram, then was merged into Universal Music Group and PolyGram Filmed Entertainment. Then, when Seagram faced financial difficulties, it was sold to Vivendi and became part of the company known as Universal Studios, just as Seagram itself ceased to exist. So, in many ways, the rambling tale of Doctor Who home entertainment has now come full circle as Universal take on distribution, just in time for the classic series to reach all new audiences through the upcoming Blu-ray releases.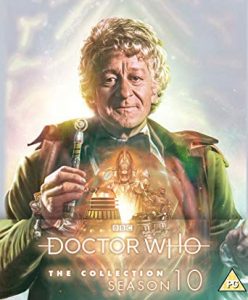 Doctor Who: The Collection – Season 10 will finally be released on Blu-ray in Australia on 13 November 2019. It will be followed soon after by Doctor Who: The Collection – Season 23 on 4 December 2019, with Doctor Who: The Collection – Season 26 due out in early 2020. Universal also plan to rerelease both new series and classic series DVDs for the Australian market, with more dates and details to be announced soon.
To pre-order any of the above sets, email shop@doctorwhoaustralia.org.