Unique in so many ways, this episode of Doctor Who has been missing from the BBC archives for years, with fans trying very hard to plug the gap. The DWCA tried to reconstruct it as text in their Zerinza special back in 1980, when Rosemary Howe novelised it as part of her adaptation of The Daleks' Masterplan. In 1989 John Peel crafted an official Target novelisation, incorporating it into his two novel adaptation of The Daleks' Masterplan.
In 2000 the amateur video production company Loose Cannon created their own reconstruction of the episode using the audio soundtrack along with available images. The Loose Cannon reconstruction was also supplemented by a specially filmed introduction by the original production's lead actor Edward de Souza, along with an interview with him and reunited cast members Jeremy Young and Barry Jackson. In 2003 they even returned to this territory by creating a reconstruction (or rather construction) of a touted but never made classic, Terry Nation's The Destroyers. Based on Nation's pitch for a Dalek spin-off show, which was proposed following Mission to the Unknown, the Loose Cannon featurette and mini-construction were both narrated by Edward de Souza.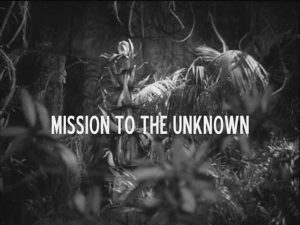 Then in 2010 animator David Busch, production manager for Adult Swim's Metalocalpse and producer on Marvel's Black Panther cartoon series, amongst other things, was commissioned by fan Ian Levine to produce an animated reconstruction of the episode. "From start to finish, the project took about eight months to complete and deliver," Busch stated. "It was produced and composed in 16×9 widescreen HD, although since Ian preferred to see it in the 4×3 ratio that the original episode would have been made in, the version I sent to him was cropped on either side… I am very proud of the finished episode, and I cannot give enough praise to the team of artists who worked on it with me."
The original episode itself was never screened in Australia, as the ABC deemed it too violent, and not without reason. It is a bleak tale of terror in the jungle, at the end of which the Daleks (without the Doctor there to challenge them) appear to have won. It has remained a long sought after treasure, lost in time but never forgotten, so it was only a matter of time before someone else found a way to bring it back to life. This latest incarnation is something quite unique though, as a team of students, graduates and staff from the University of Central Lancashire, led by Andrew Ireland, Pro-Vice Chancellor of Digital and Creative Industries there, remade the entire episode from scratch, utilising the same techniques that would have been used during the filming of the original story to recreate the episode as faithfully as possible.
The production caught the attention of a number of Doctor Who luminaries including actor Nicholas Briggs, who provided the Dalek voices for the production, as well as actors Peter Purves (who played classic companion Steven Taylor) and Edward de Souza, who dropped by the set during the filming of this new production. It also caught the attention of the BBC, who will be releasing the reconstruction through the official Doctor Who YouTube channel, exactly 54 years after it was first screened in the UK. Make sure you tune in at 5.50 pm (UK time) on 9 October to see it. "I hope audiences around the world can imagine that it's tea time on the 9 October 1965 as they rather excitingly watch a black and white episode of Doctor Who premiere on their television sets, mobile phones and tablets," stated Luke Spillane, Digital Publishing Manager for Doctor Who at BBC Studios. No doubt fans worldwide will all be doing exactly that!
Sound interesting? Check it out below!