Updated 04/11 – Announcement of Colour release.
Updated 31/10 – Added DVD release date.
The BBC have announced they will be releasing a fully re-animated version of Power of the Daleks.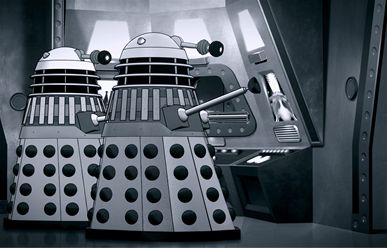 Power of the Daleks, first broadcast back on the fifth of November, 1966 was the second Doctor's (Patrick Troughton) first on screen adventure. Unfortunately, the story was not kept after original broadcast and the master negatives were purged back in 1974.
The new animated episodes will be released in black and white animation and are based on audio recordings of the programme using the original cast.
The team behind the animation has previously animated another lost episode from the BBC Comedy – Dad's Army. This is their first attempt for Doctor Who.
The producer and director is Charles Norton, and character designs are from comic book artists Martin Geraghty and Adrian Salmon.
Norton says:
"The Power of the Daleks animation is the most ambitious Doctor Who archive restoration ever attempted and we're all very honoured to be a part of such a an exciting project. Intelligent, suspenseful and magnificently staged, Power of the Daleks is one of the great lost classics of 1960s television and a superb example of the black and white era at its finest."
Doctor Who: The Power Of The Daleks will initially be exclusively released on BBC Store, with episode one available from Saturday 5th November at 5:50pm, and the others released on consecutive days thereafter. Readers can register their interest in the download at the BBC Store.
The story will become available online more widely from the 14th November, and will also be released on DVD in the United Kingdom on the 21st November. The DVD will be released on the 14th of December and the DWCA Shop will have copies for sale.
In the new year, there is also going to be a release in the UK of both the black and white and colour animations of this story released on Blu-Ray. This is due out on the 6th of February in the UK.
A teaser trailer showcasing the animation is available below: