Overnight, the Doctor Who spin off series Class, has had a release date announced for the 22nd of October in the UK on BBC3.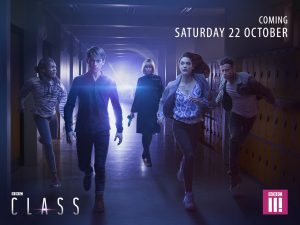 Update: 26/09/16 – Class will air in Australia on ABC2. The air date of the two episodes will be Monday the 24th of October. However, on iView, the episodes will be available for viewing straight after their release in the UK!
Two episodes will air on the 22nd, and the first one will feature Peter Capaldi reprising his role as the Doctor. The episode titles for these two episodes are "For Tonight We Might Die" and "The Coach With The Dragon Tattoo."
There are no trailers at the moment, but we will provide a link when one is available.
Update: 08/10/16 – A Trailer for the first season of class has been released. Please note, the trailer may not be suitable for young children. Parental discretion is advised.