Overnight, Peter Capaldi has announced that he is leaving Doctor Who at the end of the 2017 Christmas special.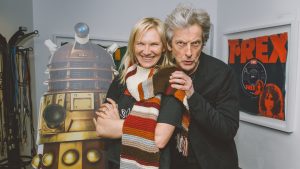 Appearing on Jo Whiley's show on Radio 2, Capaldi said:
"From our brilliant crew and creative team working for the best broadcaster on the planet, to the viewers and fans whose endless creativity, generosity and inclusiveness points to a brighter future ahead. I can't thank everyone enough. It's been cosmic."
Steven Moffat has also released a statement saying:
For years before I ever imagined being involved in Doctor Who, or had ever met the man, I wanted to work with Peter Capaldi. I could not have imagined that one day we'd be standing on the TARDIS together. Like Peter, I'm facing up to leaving the best job I'll ever have, but knowing I do so in the company of the best, and kindest and cleverest of men, makes the saddest of endings a little sweeter. But hey, it's a long way from over. Peters' amazing, fiery, turbulent Doctor is still fighting the good fight, and his greatest adventures are yet to come. Monsters of the universe, be on your guard – Capaldi's not done with you yet!
Peter's final season of 12 episodes and the Christmas special begins on Easter Saturday (April 15th).
There's no announcement yet on when the next Doctor will be announced, or which actor will be taking on the role as the thirteenth Doctor.