In 2016, the UNSW Doctor Who Society (DocSoc) put together their own original Doctor Who fan film. Titled 'The TARDIS of UNSW', the film was screened at the DWCA's March day event in Burwood, Sydney, alongside a Q&A panel featuring members of the production team. But if you didn't get to attend the day, you can now read a transcript of the interview right here. Make sure you watch the film first, to avoid spoilers!
DWCA: Welcome! Would you like to start off by introducing yourselves to the audience?
Thomas Walder: I'm Thomas. I was the director, and I also did the special effects and a small part of the editing.
Sarah Cobb-Clark: I'm Sarah, I played Jane aka the real Doctor.
Charles Mann: I'm Charles, I played the Doctor, but also the Master, the second time around? It's really confusing.
Ewan Scott: I'm Ewan, I played the actual, definite Master, and I'm kind of responsible for the confusing plot as well.
DWCA: So how did your fan film, The TARDIS of UNSW, come about?
Thomas: Originally, the society was going to try and recreate some of the Classic Who effects, which you can kind of get from the aesthetic of it. But during the planning stages, Ewan and I, and one other member, we sat down and had a few drinks and decided to see if we could come up with a plot that we could use. But as we came up with an idea, we came up with this twist. It wasn't originally even going to have a Doctor – it was going to have the Master fooling the Master and then double-crossing themselves. It was going to be this amazing Moffat-esque twist at the end.
Ewan: And then Moffat stole it from us!
Sarah: We attended Whovians together to see the Series 10 finale, and we were sitting next to each other in the audience as the episode played. I was sitting right next to Ewan, poking him, going, "The Master just killed the Master! This is our plot, this is our episode!"
Ewan: We clearly know the characters too well.
Thomas: It was a lot of effort. One of our other members who isn't here, who did much of the editing – Heloise – we sat down with her and spent ages trying to wrap our heads around this time loop that we'd created. Some of the diagrams that you see in both the end-credits scene and some of the making-of shots – that was from us trying to make sure that we know exactly how to get this thing working, so that it actually sort of makes sense.
Charles: That took the longest, I think. Out of all of the things we did, that one diagram took the longest.
Thomas: As the special effects editor, I can say it didn't.
DWCA: How did you manage to put together the special effects?
Thomas: I kind of taught myself After Effects. Mostly it was just looking up the effects online. The one that was particularly unique was what we tried to do with the opening scenes. 'Cos we attempted to replicate the official howl-around effect that Classic Who used, using modern technology – which was kind of the original idea. So what we ended up doing was getting a webcam, pointing it at a computer, and then just kind of wiggling it around for a bit. In the editing, I took the shots that were made from that and tried to blend them together in reasonably visually appealing away, and add the other effects. And I was quite happy with the result.
Ewan: Tom's effects are better than my acting.
Sarah: It's a fan episode, it's gonna be a cheesy. And it was fun.
DWCA: What about the props and other equipment? Did you film it on a phone?
Thomas: It was on my camera.
Charles: Tom supplied most of everything.
Ewan: As a fan club, we sort of went, "Hey, anyone who has anything you can lend us – Daleks, sonic screwdrivers – bring it in!" I think there's a shot at the end of a table covered in TARDISes and Daleks.
Thomas: One thing you might notice is, I'm pretty sure each shot that has a sonic screwdriver in use is a different sonic screwdriver. That's just an Easter egg.
Charles: We definitely went out of our way in at least one shot, when we're all trying to open the one door, to make sure that every single time a sonic screwdriver was in shot, it was a different sonic screwdriver.
Thomas: Some of the props, such as the K9 and the Dalek parts, they were created by another member, Antonia, who also did much of the storage. K9's kind of a dump truck underneath the box bit, so he was kind of a little trolley.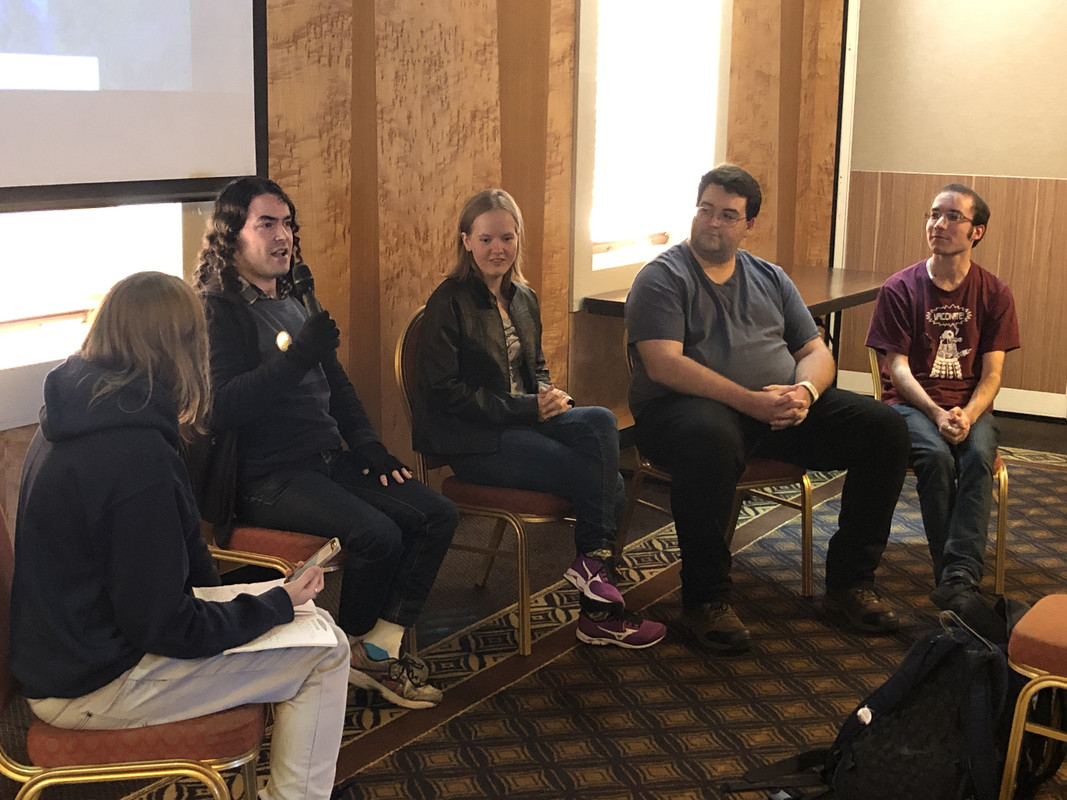 DWCA: Your film also has the twist of the female Doctor. Now that you've seen a real female Doctor on screen, how do you think they compare?
Sarah: I would have made a better Doctor. They should have hired me. No, I kid. I am enjoying Jodie Whittaker, and I'm sure that next season she'll go from strength to strength.
Thomas: One of things we wanted to do was make it fit in with things that we'd seen in past parodies. And having a female Doctor, up until that point, was something that was very much a classic thing for a parody to do. So that was one of the goals when it came to building themes and stuff into the show.
DWCA: Overall, was the whole process easier or harder than you expected?
Thomas: Well Charlie and I had made a small film back in high school…
Charles: Very small.
Thomas: … So when it came to it, none of us knew that much about what we were doing – apart from Heloise, who was the only actual film student involved in the process. So a lot of it was kind of working it out as we went. Pretty much all of the actual dialogue, and most of the actual scenes, were worked out on the day.
Ewan: In terms of little details like continuity though, Heloise was very much on the ball in terms of "Hang on, you need to be wearing this shirt to regenerate." She got mad at me when I got a haircut, and fair enough.
Charles: Yes, I remember that.
Thomas: So we had four filming days, out of an originally planned one. Do you want to tell the story about what happened with the jackets, and the temperature?
Charles: Oh man…
Sarah: I would love to tell that story! Alright – we started filming in winter. We finished filming in summer. Charles was in a wool coat, I was in a leather jacket and a wool turtleneck. We both regretted our costume choices.
Thomas: That's the thing, right? Doctor Who has this whole clothing aesthetic. You've got to have the jackets and stuff.
Charles: You've got to make sure everything works in-universe, even if it causes you incredible discomfort and dehydration when you're standing in the sun for a solid hour, making sure that the shot is exactly perfect. It was fun, but my goodness, I have so much respect now for professional actors, and anyone who wears that kind of stuff all the time.
Thomas: Looking back at it, there were a number of small things that we either could have done more smoothly or that we had to work in, in order to cover the small mistakes we made. And I think in part, that's because it was quite exhausting, the process of actually filming. 'Cos we're trying to fit in between everyone's uni and work schedules, so we're trying to pack in as much as we can in the limited time we have together.
Ewan: I think I recorded the K9 lines several months later, at my computer, and sent them off to Heloise in the hope that she'd be able to get them in.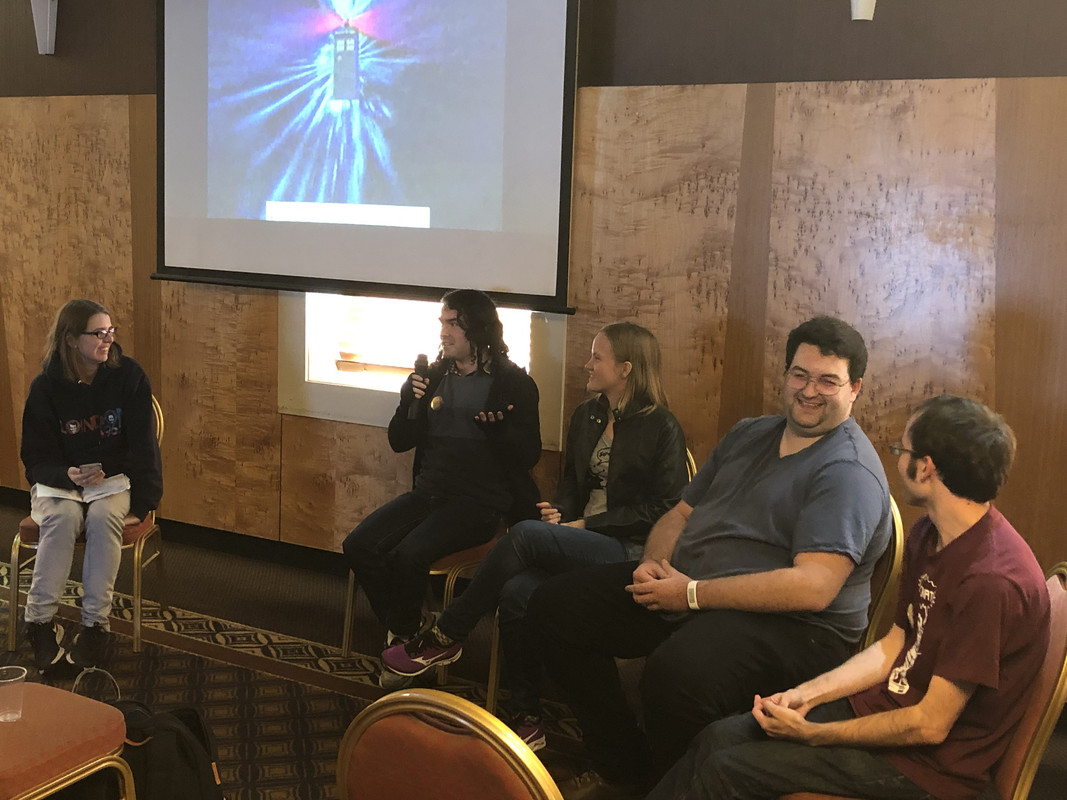 DWCA: Was it difficult finding the right people to take on various roles in the production?
Sarah: Well everyone involved was in the Doctor Who Society of UNSW, so we kind of worked with the people who were already there, and who would be interested in it.
Ewan: And it was a large enough club that it wasn't so much "Oh, you're good at this, you can do it" as "You want to help? Alright, could you learn how to do this?"
Charles: Exactly, there was a lot of that. There was a lot of multitasking in the crew; we were like, "Someone needs to hold this camera. Just hold it. You don't even have to do anything, just hold the thing." There were a lot of people, but at the end of the day it actually wasn't quite as big as it could have been.
Thomas: When it came to filming the spaceship shot, I basically just filmed that in my living room, and got my mum to help. So she's listed as one of the credits. In the end, it wasn't a huge crew. It must have been… ten people involved in total?
DWCA: Are you happy with the finished product?
Thomas: I'm happy. We wanted to have it very Doctor Who flavoured, and the other thing I wanted to have was plenty of UNSW references, because it was there. That final twist – was that one of the things that we came up with on the first day?
Ewan: I think that was part of the core plot; that the library was actually a TARDIS.
Charles: The enormous thing that was in every single shot.
Sarah: It was very fun sitting in the audience just now, listening to the people in the back going, "Is it the library?"
DWCA: Do you have any advice for anyone who might be considering doing their own fan film?
Charles: Plan. No seriously, make sure that you have everyone's schedules mapped out like 16 months in advance. Make sure everything lines up, make sure that you have a good group of people to work with. 'Cos that, I think, is also key. If you have people who are willing to go the extra mile to make sure that everything's in place, and they're willing to sacrifice and stuff, then you're going to have a much better experience overall.
Thomas: But conversely, as well as having to plan ahead, when stuff doesn't go right, you've got to be a bit flexible as well. So be prepared for that to happen. Because our filming ended up getting pushed back, we ended up having our last filming day during the university shutdown period, which meant that we didn't have any access to indoor facilities. So some scenes which happen outside, they only take place outside because that was all we had access to. Again, plan ahead, but in the event that planning ahead doesn't end up covering everything, you've got to be ready to improvise.
Ewan: But then also, go for it. 'Cos sometimes those restrictions lead to a better product than if we just sat, planning for years and years and gone, "Well, we might get around to filming this eventually."
Thomas: Our whole UNIT scene? That happened because one of our writers was going to play a UNIT representative, but unfortunately he had a very limited time in which he could appear, and we couldn't get his role working in time. So that's when we rewrote and came up with the secret UNIT base scene, which was one of our crew members' garages. We just came to Antonia's house and said, "Hey Antonia, can we use your garage?"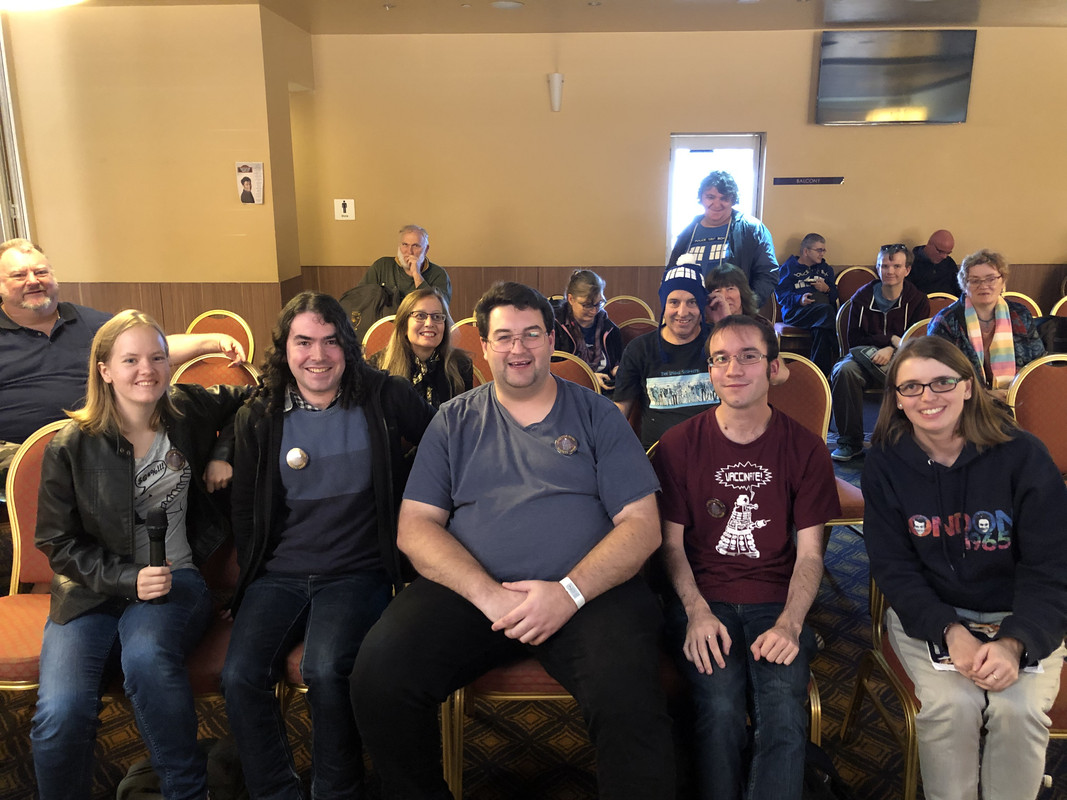 ***
Thomas, Sarah, Charles and Ewan appeared at the DWCA day event 'Joker in the Pack', which was themed around comedy in Doctor Who. The club's next Sydney day event will be held on 19 May and is themed 'Animations and Adaptations', in honour of the recent animation of The Macra Terror. More information on the event can be found here and pre-orders for The Macra Terror can be placed here.