DWCA Publishing are proud to present a new publication in their Doctor Who Fanzine Collection series. Throughout 2015 and 2016 editors Dallas Jones and Roger Reynolds toiled ceaselessly, undertaking research, conducting interviews, compiling reviews, and seeking out news, fan art and fiction. Their efforts were all for The Nethersphere, the DWCA e-zine that was provided exclusively to club members. Now all seven issues have been collected in one volume, covering the full scope of Australian fandom throughout that time.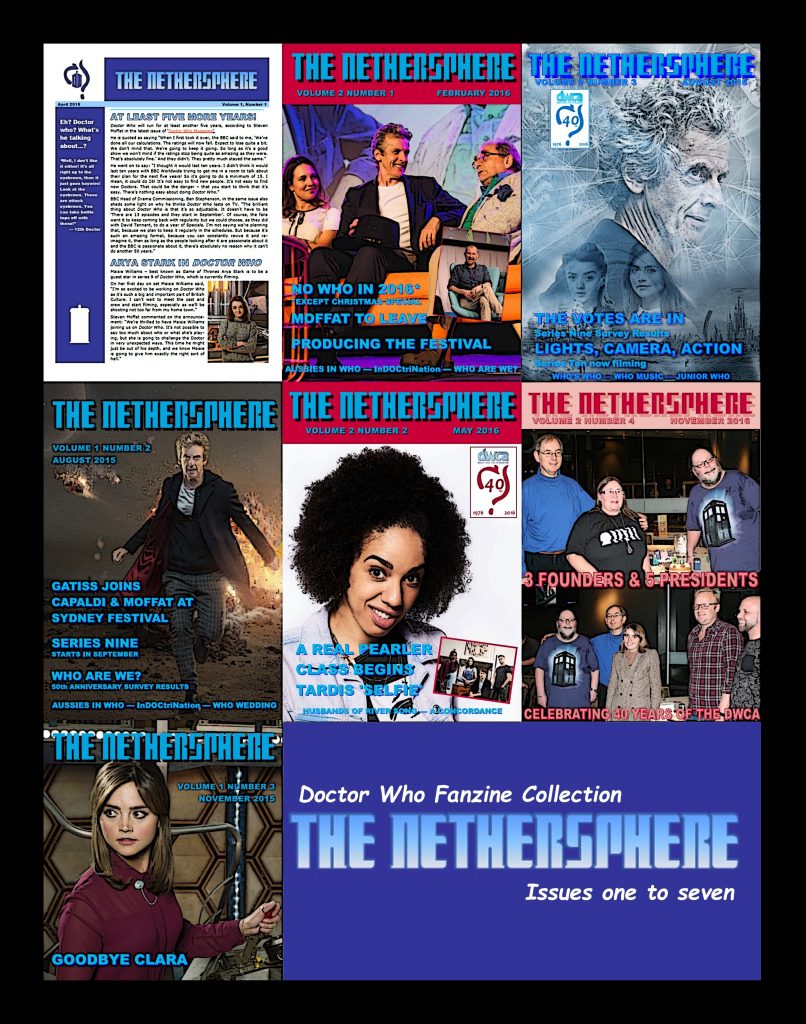 These pages contain a wealth of information and entertainment for fans everywhere, drawn together as a labour of love. This volume includes stories by David Harris, Daniel Worsley and Darran Jordan, behind the scenes at a Whovian wedding, behind the scenes on Robert Smith?'s celebration of ten years of modern Who – Outside In 2, survey results, Robert Lloyd's meeting with Karen Gillan, a comprehensive alphabetical listing of Australians in Doctor Who, crossword puzzles, Paul Vanezis's report on the Sydney Doctor Who Festival, a concordance of The Husbands of River Song, reporting on Comic Con, articles on the music of Doctor Who, the Forbidden Planet launch of the Target exhibition, behind the scenes at the 40th anniversary celebrations of the DWCA, an interview with Doctor Who comic artist Chris Wahl and much, much more!
The book is available in both black-and-white and full-colour versions. Both can be purchased now from the DWCA Publishing store: http://www.lulu.com/spotlight/DoctorWhoClubOfAustralia.