Award-winning sci-fi audio series Night Terrace, produced by Melbourne's own Splendid Chaps Productions, is making its broadcast debut on BBC Radio 4 Extra – and Australian listeners will be able to tune in as well!
Created as a follow-up to the critically acclaimed Splendid Chaps Doctor Who podcast, Night Terrace is a half-hour narrative comedy series starring Jackie Woodburne (Susan Kennedy from Neighbours) as Anastasia Black – a government scientist who used to save the world but now wants a quiet retirement. So she's understandably miffed when her house unexpectedly starts travelling through space and time.
Over two series and a total of sixteen episodes, taking place from the ancient past to the distant future and everywhere in between, Anastasia fights monsters and solves mysteries, all while trying to find a way home. And joining her on her interstellar trek are actor, comedian and series co-creator Ben McKenzie as hapless door-to-door salesman Eddie Jones, plus actor, singer and co-creator Petra Elliott as the myserious "Sue".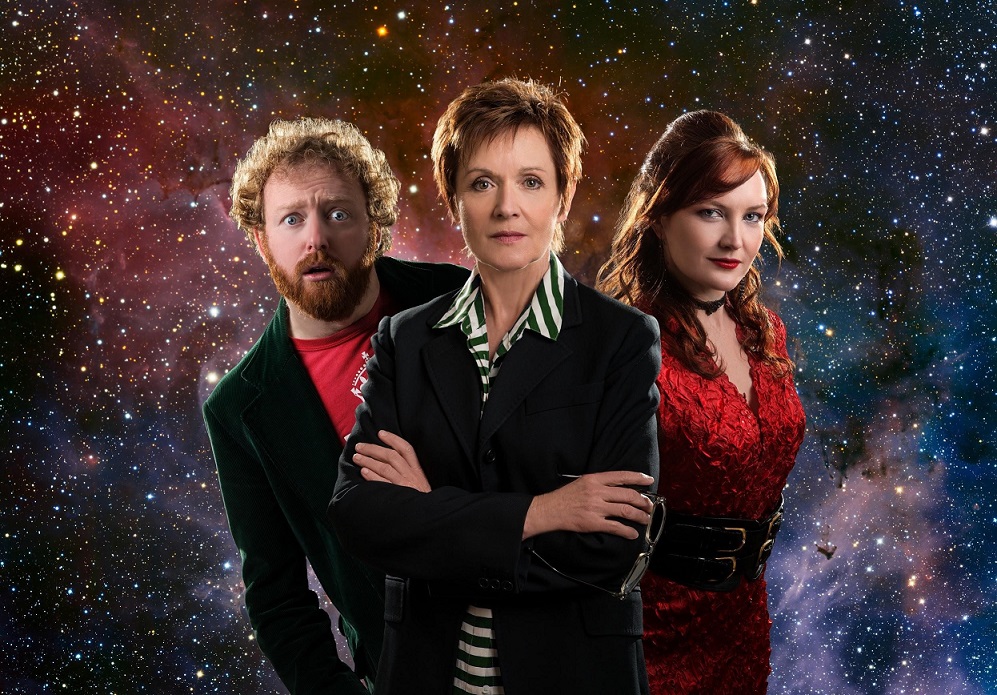 The guest cast is meanwhile packed to the brim with Australian and New Zealand comedic talent – including Whovians regulars Cal Wilson and Adam Richard – as well as respected dramatic actors such as Colette Mann, Jane Badler, Virginia Gay and more. There are even cameos from Louise Jameson (Doctor Who's Leela) and Nicholas Briggs (the voice of the Daleks), as well as Doctor Who writer and former Big Finish producer Gary Russell!
Originally crowdfunded for digital download, Night Terrace now comes to BBC Radio, premiering on Sunday 21 April on Radio 4 Extra at 6pm UK time (repeated at midnight) and continuing every Sunday for the duration of the first series – with each episode available internationally via BBC iPlayer (aka BBC Sounds) for 30 days afterwards. Series two will follow in the same timeslot from 25 August.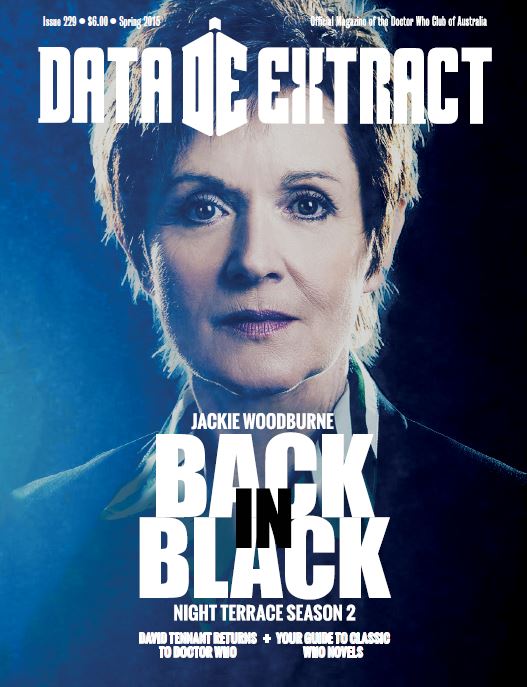 "I'm stunned we went from doing a podcast in Melbourne pubs to having our comedy series on BBC Radio," said head writer John Richards. "It's like we just won an Oscar for pole dancing. I'm a huge fan of radio drama and comedy – due to a long commute I currently listen to more drama than I watch. So it's a thrill that Anastasia Black is heading to the home of The Goons, the Hitchhiker's Guide To The Galaxy and that show that used to look at famous pipe organs.
"We came into Night Terrace wanting certain things – we wanted a female lead, we wanted her to be a bit grumpy but also the smartest person in any room. And we wanted it to be distinctly Australian. We wanted it to be big and bold and thoughtful and silly and it's been all of those things. Jackie Woodburne – or 'Susan From Neighbours' as we like to call her – was our only choice to play Anastasia Black and she's been phenomenal. And we've been blessed with an amazing and diverse cast. It's all been a dream. Oh, is this a dream? This is a dream, isn't it?"
Episode one of series one, Moving House, can be streamed now on the Splendid Chaps Soundcloud page or via the YouTube link below. You can also read our exclusive interview with Ben McKenzie, conducted ahead of the release of series two, in Issue #229 of Data Extract magazine, available from the DWCA Shop.