Issue #239 of Data Extract magazine, released last month by the Doctor Who Club of Australia, features a new interview with classic companion actor Katy Manning, conducted at the club's Look Who's Talking event earlier this year. DWCA members were absolutely thrilled with the visit from their patron, whose last appearance at an Australian sci-fi event was the Lords of Time 3 convention back in December 2014.
Here we present the interview that was conducted at that very convention, republished courtesy of Culture Shock Events.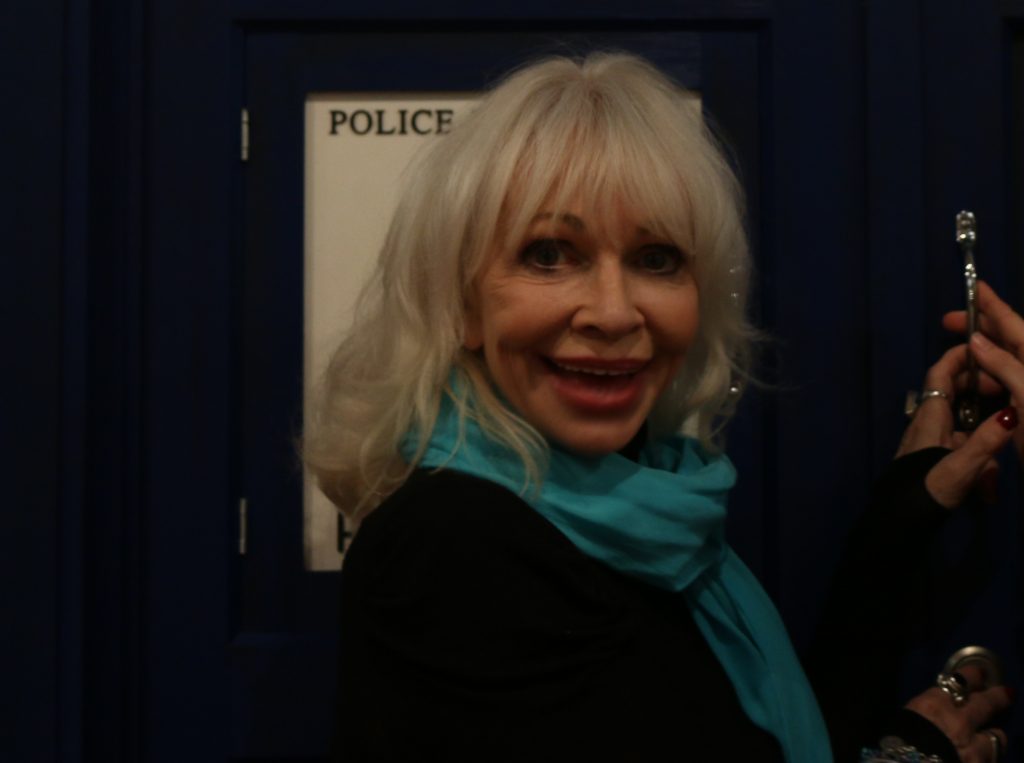 Hi Katy, welcome back to Australia.
Australia is so much a part of my heart – thank you for the lovely welcome!
Since you've been back in England, have you been approached to come back to do any work here?
Yes! I must be honest with you – I've been very lucky. I've lived in three countries and managed to get work, and it's even easier now because I can play old ladies! Once a year, I do a thing called 'art', which means I work for very little at places like the Edinburgh Festival. And last year, along with Susan Penhaligon, who was in The Time Monster, we played these dear old actresses who both had different stages of dementia. I'm not being disrespectful when I say this is not hard for me. People say, "What did you do yesterday?", and I literally go, "I have no idea!" Life goes so fast, it's wonderful.
Speaking of playing older ladies, you played that old icon Bette Davis in your one-woman show 'Me and Jezebel'.
She's been right across Australia, poor old bat. When I took Bette across Australia, we were right in the middle of the outback, and that's where my heart is. You put a play on out there, and people get in a van, and they travel for three hours, and they bring their little kiddies with their little blankets, and they bring the picnic, and they've got everything there. One lady said, "We've never had a play here before! A lot of country and western music, and some very good Irish dancing." So when I got up there and played nine people, including Bette Davis, they were all in gobsmacked amazement. It was the most exciting thing I've ever done – taking theatre to people who don't get theatre. I mean, Sydney is beautiful, Melbourne's beautiful, but it's the outback of Australia that is the true Australia to me. It really is remarkable.
You seem to be very busy in England, no doubt due to your work with Big Finish Productions over the years – playing not only Jo Grant, but also Irish Wildthyme.
I used to go back and do Big Finish, and do the characters in Terrance Dicks' books, which are all men. I've never played so many Welsh miners and army men in my life! I thought I was a girl until I came out of there! But I'd just arrived from Australia to do a Big Finish, and I said, "What am I doing?" Gary Russell said, "Oh, it's a new character". So, Iris Wildthyme. I said, "Who is she?", and Gary said, "Oh, just do a voice". So I thought: every part of Northern England, that's the voice I'm going to give, and then they can choose.
Well, it stayed. Thirteen years I've been playing Iris. And of course I do Jo, and then I put Jo with Iris, and then I did a one-woman show that I wrote when I was living in LA called Not a Well Woman. It was Big Finish's very first non-Doctor Who drama audio. I play 26 characters in it, which is no easy feat – from newborn babies crying, to old Australians, to Africans, to Greek men… so many characters in it.
The most amazing thing that I had to do in it, though, was… there's a rap song in it. But we couldn't afford to pay the rights for a rap song, and it had to be a real gangster-like rap song – the ruder the better for the joke. So I was sitting there, and I said, "It's okay, I'll write the rap song". So I ended up sitting there writing this rap song, which of course I had to sing. I had to do gangster rap. I'm an old, pension-carrying woman, and I'm sitting there, and I'm writing, "ridin' with ma homies", and it felt so right!
I have to be honest with you – I was really proud of that. I did it all by myself, and we recorded it in a day. There were 26 voices, and I don't do it like separate tracks, I do it all in one hit. When I do Iris, and Jo, and Jon Pertwee, they're all done as it comes off the page – and that's why I'm nuts!
You actually said many years ago that you didn't really want to go back and do Jo Grant, yet now you've reprised her on audio and TV. What made you change your mind?
I didn't want to do her on audio. I remember saying to David Richardson, "Why would I do Jo without Jon? It just doesn't compute." He said, "Well you play Jon." And the rest is history.
Some time later, though, I was trotting along in the West End, trying to find this theatre. My phone rings, and it's Russell T Davies. And he said, "We'd like you to come back as Jo Grant." So I was sent the script, and I thought it was one of the most magnificent things I've ever read. I knew that Gary Russell would be script editing, I knew that Russell T is a genius and one of the loveliest men in the world, and of course on top of all that, beautiful Lis. So that was one of the greatest gifts you could give somebody – all of those things. And I got very nervous, but Lis was just wonderful, and to work with Matt Smith was such a treat. Lis said it was lovely, because having Jo gave her character an opportunity to lighten up, and I think the audience could see that.
Interviews with Katy's fellow Lords of Time guests, including Matthew Waterhouse, Terrance Dicks and Geoffrey Beevers, can be found in Issue #226 of Data Extract magazine, available for purchase here. Katy's most recent interview can be found in DE #239, currently available exclusively to DWCA members.